(31 December 1923 – 2020)
MCS was informed of Colin Francis MBE (OW 1941)'s passing in 2020.
Colin was a choral scholar as a student, and was one of the boys in the infamous Ice Floe image from the winter of 1940, when the Cherwell froze over and a makeshift punt was created from some of the ice.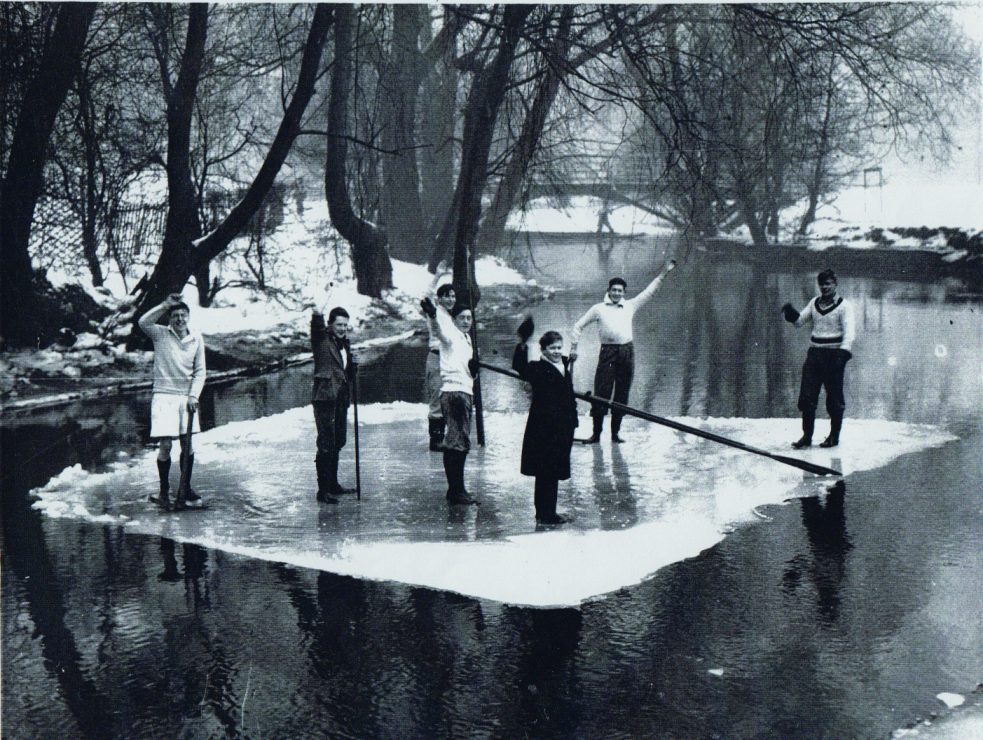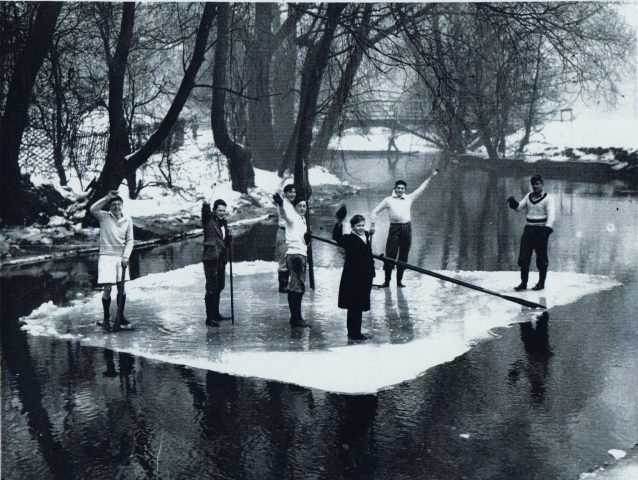 (Obituary contributed by Colin's family)
Colin was born in Penge, S.E. London on New Year's Eve, 1923, and at the age of 11 gained a choral scholarship to Magdalen College School, Oxford in 1934 where he was a boarder.
He continued to enjoy his years at MCS, enjoying the rowing there.  A Club called The Pioneers Club was begun and involved his rowing colleagues. He even helped the school dance band called the "Rumboogies" by playing percussion. After reading his diaries, he loved nothing better than getting on his bike and rode for miles and miles. Colin tried to balance his time between school work, rowing and choral singing.  He was especially fond of May Day celebrations when the choristers sang on top of the school tower.  The friends he made at MCS Colin kept in touch with for many years.
After leaving Magdalen Colin worked for Lloyds Bank in Byfleet.  Once war broke out he joined the Home Guard in 1941 at the age of 18.  He went into the Royal Corps of Signals in October 1942 where he learnt to ride trucks and motorbikes as well as the work involved with the Corps of Signals. He then served in the No 2 Commandos (Special Forces) and the Parachute Regiment (Green Berets), serving in Italy, Yugoslavia, Albania & Palestine until December 1945. He was awarded an MBE for his work in the war.
Happier times followed when Colin and his wife married in Otley in June 1947 and started a family in Orpington, Kent. After retirement in 1993 they moved to be nearer their family and settled for nearly 30 years in Saffron Walden.  There they joined various groups. Colin was a member of the Family History Society and for many years took the office of Treasurer at the local Probas Club.
He was especially interested in his family history and travelled to London and to many parts of the country trying to put another piece into the family jigsaw.  He managed to get back to the 1700's.
Colin had a full life and enjoyed his extended family which included 5 grandchildren and 11 great grandchildren.
Colin's family plans to scatter his ashes from the top of Chevin in the Yorkshire Dales overlooking his wife's hometown of Otley. Colin's wife's ashes were also scattered there.